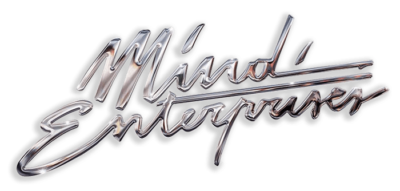 Mind Enterprises is the aesthetic universe and musical dreamworld of Turin raised producer Andrea Tirone. Born in 1985, Tirone draws from the fizzy, synth-powered Italo that defined the era; groovy, disco-adjacent basslines, hypnotic drum patterns and cosmic keyboard odysseys that traverse continents.Through his visual output, which is spiced with tongue-in-cheek humour, Tirone pokes fun at consumerism and parodies the silliness of the '80s. However, taking inspiration from his artist girlfriend's bold figurative style and his drummer Roberto, "who took a weird fashion turn a few years ago", he is more than partial to a piece of retro athleisure wear. "The result is often funny, but I am doing it seriously. It's about trying to cheer people up".
Anyone following on Instagram will have seen and heard their split screen live streams from London and Gran Canaria covering 80s Italo classics and DJ sets with Roberto on the wheels of steel.
Tirone perceives his ever-growing collection of vintage synthesizers like a "palette of colours", or an orchestra of performers. "Every single machine has a distinctive sound that is exclusively the sound of that machine", he says, describing the charity shops in his new home of Las Palmas de Gran Canaria as "heaven", and noting how he has bought "a few things for really stupid prices", like a vintage 1970s audio mixer.